Help and advice for garage conversions Leeds
A garage conversion is a great way to add more living space to your property. You may want a larger kitchen, a spare bedroom, an office, more lounging space or just a place for the kids to go.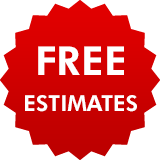 All too often, the place once designed to house your car is simply an expensive waste of space. Is it right to use such a valuable area as a home for your lawnmower, or should you consider converting it into some extra living space? Call us and we'll give you a free, no obligation quote.
We've converted loads of garages around Leeds, turning them into all types of rooms. No matter what you are looking to convert this poorly used space into, we'll create something spectacular.
Why choose us to help you?
We'll provide you with a free, no obligation quote
We are genuine, friendly and professional Leeds based tradesmen
Unlike many builders, we fully employ all our own lads
We'll communicate with you in honest and straight-forward plain English
All our work is provided with an insurance backed guarantee
Peace of mind once the work is completed
You'll find that our prices really do hit the spot and we'll happily hold your hand from start to finish, guiding you through the garage conversion process, step by step. Then, once we've completed the building work, we'll offer a warranty to cover all the work we've done.
Whatever you plan on turning your unused space into, you need a quality builder, so call us today on Leeds 0113 370 8931 and lets talk through what you need.